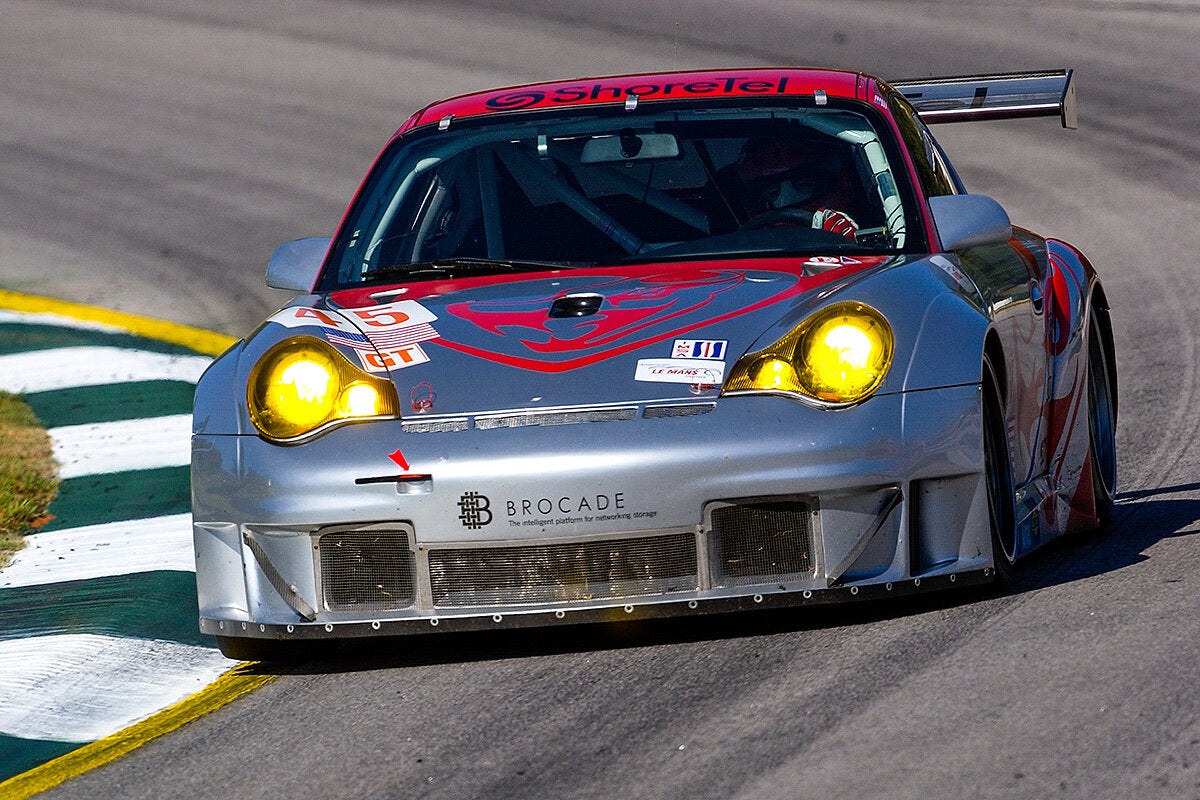 Porsche 996 GT3 development, Kussmaul insights, & learning curves
Craig Watkins
Introduction: I suppose because of my long working relationship with Roland I was asked to write this almost three years ago. Through these weeks of the covid virus shelter-in-place mandate, I decided to publish it on SRP's blog maybe a month ago, but instead the version that I wrote with some added content and photo. The value is in the explained knowledge. Please forgive missed quotation marks and other grammatical or contextual errors, my area of expertise is engineering and design. Photo credits: Bob Chapman AutoSport Images, Porsche AG and the author.
I was sweating bullets as the light faded on an evening test session for 2004's Petit Le Mans. My self-doubt was creeping in. They must think I'm the world's biggest idiot. Or, I won't be rehired next year if I can't fix this, I thought. I pressed the button on my headset and radioed to driver Jon Fogarty: "Pit this lap."

We'd come to the end of Flying Lizard Motorsports' first full season with the 996 GT3 RSR in the American Le Mans Series (ALMS). We had two sister cars, I was the engineer on the #45 car for Jon, Darren Law, and Johannes van Overbeek. To address their complaints of oversteer in previous sessions, I'd made every change I could think of: more camber, less camber, tire pressure splits, tire compounds, anti-roll bar settings, spring rates, ride-height changes front and rear, damper settings. After a full season with the RSR's I'd learned a lot, but its perpetual oversteer at this track was wearing me down – and here's what was particularly bad… I was out of ideas. I couldn't add more wing angle or Gurney flap height because the car had oversteer on slow and fast corners. All that would do is slow it down on Road Atlanta's fast straights.

As Jon rolled to a stop, I reread the setup sheet. I'd reviewed it a hundred times and knew nothing would stand out as wrong. I asked him how the car was, even though his laps times told me. "Same problem," he said. "A little understeer in some turns, Turn 5 for sure, but mostly oversteer pretty much everywhere. It transfers weight in the rear okay, but the rear never feels hooked up. It's the oversteer that's keeping me from going faster, I don't trust the back."

"Driver change to Johannes," I said, just wanting an extra 30 seconds to think. The car was on Porsche's "versa springs," which has four positions, allowing you to make spring rate changes on pit lane without swapping springs – you can change spring rates in less than 3 minutes with a good crew – and we had a very good crew. They were set in Position 2 front and rear, a spring rate of 1,670 pounds per inch. The calculations on my Excel spreadsheet were staring me in the face when I decided to try something I'd never tried before – it never made any sense to me.
I keyed my radio and told the car boss Roger Reis to stiffen the front springs to P3; increasing the rate to 1,806 pounds—putting more spring rate in the front than in the rear. "It's a 911 for Christ's sake," I muttered to myself. "Fifty eight percent of the weight is in the rear, so how can stiffening the front spring do anything but cause understeer, especially in Turn 5? But if I stiffen the rear springs, that will antagonize oversteer… But what the hell, I thought, I'm going for it."
The chart above shows the rates in the four different positions. In the photo is the spring and spring perch. There is a stainless steel bobbin that locates the spring in a notch in the spring. We (FLM) made many of our own springs, different heights and rates. You can see this is one of our springs because the tail of the spring is unpainted and the factory springs were typically dark gray with a rate corresponding color splotch and a part number printed on them.
I slid over the pit wall, walked around the car and knelt by the open driver's door. I grabbed Johannes' forearm, looked him in the eye and told him to expect big understeer but at this point I needed to experiment, I was out of ideas. He said, no problem c-dub. The crew dropped the car off its air jacks and he hustled out of the pits. I went back to the pit cart, climbed up to my seat and waited, glancing at the clock. Ten minutes remained in the session. If the car was worse, it was going to be a long sleepless night. Two laps later I forced myself to key the headset when I knew he was on the back straight.

"How's the car?" After a pause, the radio crackled: "It's better… it's better everywhere." The lap times were incrementally getting better too. While the tires had more than 30 laps on them – way beyond their peak – Johannes moved the #45 car up from P8 to P5. You'd better do some serious thinking tonight, I thought, because the result was not what I was expecting. And that was my job, to know what each change would do – if you are making changes and the result is different than you thought, that means you didn't understand it to begin with. Cause and effect, right? But the 996 was like that (and the 997 would be too, needing more front spring rate than the rear on many tracks). Even in 2004, five years after its introduction, it was in most ways a 911, but like no 911 before it.

While the street car side of Porsche AG was busy developing the first completely new 911 since 1964, a water-cooled Carrera known internally as the 996, its management board decided a high-performance line for road and track use was needed to help promote it. In 1996 it approved funds and set Porsche Motorsport into motion. Hartmut Kristen, newly in charge of the racing department, put Roland Kussmaul in charge of development and testing it.

I flew over and stayed with Roland and Anita as I had many times while writing his Porsche career book, Kussmaul Chronicles. I wanted to know the subtle details of it all – I'd been told some, but wanted to know them more completely. The faster 996 would not be called a Carrera RS, a revered name that went back to 1972. It would get a new name for a new era: GT3.

After months of tire, aero, springs, sway bars, brake and damper testing and hundreds if not thousands of miles of test in Weissach and the Autobahn, they felt they had a good initial package for the street GT3 variant and the upcoming Cup car.

But Kussmaul quickly ran into production problems. "Go away with your bullshit car" was the sentiment of five 911 production and assembly line bosses in Zuffenhausen. "The GT3 is too much trouble, they said. The Labor Unions wouldn't want workers installing a special 34-pound dashboard without a robot, and that would require special tooling, and you use different wheels with center-locks, more special tooling. Besides, we're building street cars that make us money, not your stupid race cars." Roland thought for a moment and then said, "Okay, well, how about the motorsport department pays each one of your guys 20 euro for each GT3 they build in a day, in cash?' 'Oh,' said one of the bosses. 'Maybe we install the dash and other unusual parts ourselves and you pay us directly the 20 euro in cash?' He thought about it for a few seconds and said, 'Sure, why not?'

Then he thought about it some more. 'Well, how about we have one of our guys from Weissach come and sit in a chair next to the assembly line and when he sees a GT3 is coming, he gets up and does the work?'  But that really won't work either, because he might be there all day and help build five cars or whatever. That's not an efficient use of time or money, Mr. Wiedeking will not go for that.'

Kussmaul left, angry, but he was right to be concerned about Wendelin Wiedeking. The CEO, that took over in 1992 was on a spending efficiency warpath. Model parts interchangeability, production efficiencies and cost savings were everything.

A week later, Wiedeking was in Weissach. "He saw me and said, 'So, Herr Kussmaul, everything goes well?" Roland recalls. "And I said, 'Ah, I have a little trouble with the guys in Zuffenhausen.' Wiedeking said, 'Trouble? What kind of trouble? Building the GT3, I said. Wiedeking immediately said, 'Meet me in my office in Zuffenhausen at 09:00 on Monday morning.' I groaned and said 'Oh, I cannot do that. I'm so busy with these cars, I cannot afford the time.' Wiedeking snapped back, 'Are you the boss of me or am I the boss of you? Be in my office at nine o'clock!'

Roland was in Zuffenhausen Monday morning. Wiedeking said, 'So, tell me what's going on.'  I explained that the 911 production guys would not cooperate with building the GT3s because of too many assembly anomalies—it's a lot of extra trouble, and so on. Wiedeking said, 'Give me their names.' Then Wiedeking calls to his secretary Maria. Maria, please get these five men to my office in ten minutes. She said I am not sure I can get them here so quickly. He said, Maria, please call them.

They arrived and all looking surprised and concerned standing in front of Wiedeking's desk. Wiedeking said, 'So, you are not happy here at Porsche? I hear Audi is hiring. Opel and Mercedes, as well—I can call and arrange for you to work there, it is not a problem." They looked confused and collectively said, 'No, we are very happy here. Why?' Wiedeking said, 'Yeah, Kussmaul tells me you will not help the racing guys with GT3 assembly. It's too much trouble for you.' They said, 'No, no. We can help. It's just a little bit difficult.' (And Wiedeking was a very direct man Roland reminds me). Wiedeking said, 'You will help Kussmaul and the racing guys build the GT3s or I will cut all your balls off!'

The next time Kussmaul went to Zuffenhausen, the production guys had arranged for him his own parking spot—and, thereafter, the general manager was always there to greet him with a smile. "He'd say, 'Ah, how is it going in Weissach, Herr Kussmaul? And how can we help you today...'



The 996 GT3 program would produce just two street models, the GT3 and the GT3 RS. But competition variants were coming. The GT3 Cup, initially intended for single-marque competition, arrived in 1998. The GT3R would appear at Le Mans in 1999. It was a huge roll of the dice. "We think for sure the cars will never see the finish," Roland said at the time, privately. Porsche Motorsport had sent a pair of white GT3Rs to Le Mans. Officially, they were private entries from Germany's Manthey Racing and Florida's Champion Motorsports. That way, if the cars didn't make it to the end of the race, it would be less embarrassing to the factory. The driver lineups were strong: Dirk Müller, Bob Wollek, and Bernd Mayländer in the Champion car while Uwe Alzen, Patrick Huisman, and Luca Riccitelli would handle the Manthey car. Kussmaul would serve as the engineer on the Manthey car while a colleague would take the Champion car. As it turned out, both cars finished the race – not only did they finish but the Manthey car took first in class while the Champion car finished second. It was a sign of things to come.

A 996 would win the GT category at Le Mans seven (was it 6 or 7?) years in a row. It wasn't until 2006 that its streak was broken by a Panoz Esperante. In 2007, Porsche was back in the winner's circle with a 997 GT3 RSR. Impressively, all of Porsche's GT3s—regardless of whether they were road cars or race cars— the chassis were built in the same body plant in Zuffenhausen. While they had roll cages and other chassis stiffening added by outside vendors to deal with the higher stresses induced by racing, they all started out with the same basic chassis as every other 996 & 997 did. That isn't the case with most production-based race cars.

My Own Learning:

Having come up with air cooled 911s in club racing, the leap to the first 996 GT3 Cup car was a big one. As much as I hated to admit it, everything about the water-cooled 911 was better than their air-cooled forefathers—other than the quality of some of its interior parts; some of them were pretty marginal but were upgraded as time went on.

And what wasn't to like? A longer wheelbase, stiffer chassis, more inclined windshield, gutterless roofline, more advanced aerodynamics throughout, a robust 6 speed gearbox and its water-cooled flat six were all necessary steps in the evolution of the car. Even the 996's headlights, which were so unorthodox looking, were technically superior to the 993's (ad very expensive to make). Within Porsche, they were called—affectionately or not—Spiegelei ("fried egg, sunny side up," pronounced "spee-gal-i").

The 996 GT3 Cup presented 911 racers and teams with quite a learning curve from the 993 generation 911. In the early days, the biggest complaint among (U.S.) drivers was the rear axle of the car seemed to be steering itself – which it was in-fact doing. Entering a corner the back of the car didn't seem to transfer weight and set—leaving the driver with the feeling it wasn't planted (or hooked-up). If it doesn't feel planted the drivers don't trust it and lap times suffer.

There was a lot to learn and that began in 2000, when Johannes van Overbeek asked me to engineer a pair of 996 GT3 Cup cars for a team competing in the Sports Car Club of America's Speed World Challenge GT class. I would go on to engineer GT3 Cups for two seasons, 2001 and 2002, and then a GT3R and GT3 RS in 2003. Concurrently, I became the second employee of Flying Lizard Motorsports (FLM)—which would run that same GT3RS. The team would buy two new 996 GT3 RSRs for the 2004 American Le Mans Series and continue to buy a pair of new 996 RSRs yearly thereafter until 2006.

At FLM we made a lot of changes that pretty much fixed the problem completely – but that's a story for another time. So before that it was only when we increased the spring rates to the point that the cars were almost suspensionless—like a go-kart—that the early GT3 Cups or R's improved. At that point, the springs were so stiff that the suspension hardly moved at all. Drivers didn't like the harshness, but they said the cars were better to drive. And the cars were faster. The tradeoff was that they murdered their tires over the course of a one-hour stint. When a car is more compliant, it is easier to drive and easier on its tires. When a car is very stiffly sprung, its tires do all the work—acting like suspension while creating grip both longitudinally and laterally. That configuration is fast for a few laps, but then the tires start to go away, losing grip and pace. "Managing the tires was a big part of doing well," says Darren Law. "If you drove the car too hard or slid it, the tires would be smoked in 30 minutes and you'd have to finish out a one-hour stint with a difficult car to hold on to, and its slow." (up to several seconds off pace).

"I remember the GT3R, especially," says Darren, who went up the same learning curve I did at Flying Lizard. "The engines were good—with good useable power—but the rear suspension had some strange camber and toe changes as it moved through its travel. It was unsettling. The way we fixed it was putting very, very stiff springs in it to limit how much the wheels moved. Then it was decent. It bounced all over the place if it was bumpy, so it was a handful to drive, but you adapted to it. If it was smooth, it was no problem. But if (it was bumpy or) you hit corner berms, you had to be quick with steering inputs. This was before sequential gearboxes or paddle shifting—with the conventional H-pattern shifting, you were very busy inside the car."

The 996 GT3 R and GT3 RS used traditional, H-pattern gearboxes, but 2004's GT3 RSR brought key improvements: a sequential shifter and the early stages of functional traction control. The first GT3 RSRs were a tipping point, with Porsche's 911 race cars beginning to rely more and more on electronics.

They still challenged drivers, but all cars of that era did. The 996 RSR signaled a new era in which electronics began to make GT class cars faster and easier to drive. Or, at least, less tiring to drive. "With every generation, they got better and better," says Law. "The RS was a much easier car to drive. By the time the RSRs came along, we had a pretty good handle on them. The tires were better, and the car's lateral grip continued to increase because the downforce kept getting better and better. Plus, I think you were softening the cars up too, so they became more and more compliant."

As the years passed and I gained more and more experience and knowledge, the methods to make the cars work became more clear. I started by raising the rear roll center at the same time running slightly softer rear springs. For a street car, the original rear roll center position was fine. But when a 996 is lowered to racing ride height, it was too low—especially with its double A-arm suspension in the rear—the roll center moves at a 3:1 ratio. That is, if you lower the car three millimeters, its rear roll center lowers itself nine millimeters.

That may not sound like much, but making a hide height change of 2-3mm (raise it to stiffen it, lower it to soften it – kinematically) was very noticeable to the drivers and changed the car's behavior (By comparison, the front is roughly a 1:1 ratio). The solution was to modify parts in the rear of the car, that were legal to change per the class rules, raising the rear roll center to more favorable positions. Once we did, the cars were easier to drive and had a better average pace over the length of the 50 to 70 minute stint.

The Atlanta Solution:

That evening in Atlanta I couldn't figure out why the car was better once its front axle was considerably stiffer than the rear—but it did eventually come to me. Here it is: If any axle is producing more lateral grip than it partner axle is—as the front axle had been during that evening session—the solution wasn't to help the underperforming end of the car improve its lateral grip (which we had working nearly to the best of its ability it turned out), it was to detune or take grip away from the front axle. Because the front axle was producing more lateral grip than the rear end could, and the result was oversteer. By stiffing the front springs, we reduced front-end grip—and less lateral grip up front produced a more balanced car, a more neutral car – and a faster car.



When it comes to the 996's most significant wins, there were many: Overall victory at 2003's 24 Hours of Daytona—on the 30th anniversary of an overall win there by one of the first Carrera RSRs - 1973. The #59 Brumos car driven by Peter Gregg and Hurley Haywood, painted in white with wide red and blue stripes (which became iconic), in 670 laps, beat all of the prototypes—including a 908 and a 910.

In 2003, Porsche's new GT3 RS beat all of Grand-Am's new Daytona Prototypes, taking the class as well as the overall win. The bright blue #64 The Racer's Group 996 did it with consistent pace, good pit stops, good strategy and reliability—though that year's completely underwhelming prototypes didn't have the reliability or average pace. Porsche had placed its factory drivers with various teams, and the winning 911 was driven primarily by factory drivers Timo Bernhard and Lucas Luhr, who shared the car with Michael Schrom (the money guy) and Kevin Buckler.

Kussmaul was there, engineering and calling strategy for the winning #64 car. At one point in the night, after reviewing the pace of the other significant cars, Kussmaul keyed his radio and said, in his heavy Swabian accent to Lucas, "You must drive faster." In his own German accent, Luhr replied with, "I am driving faster now." Most drivers would reply with: "I'm already driving as fast as I can!" The factory drivers are more used to disciplined behavior and cool. Lucas knew when asked to drive faster it did not mean beat the car or abuse it—that's not the way to the finish line. The best endurance drivers can pick up the pace just enough to be meaningful on the clock without destroying the car or its tires. It is all about average pace. For example, if you're fast in the first 30 minutes of a 75-minute stint and then are way off the pace the second half of the stint, the average overall pace slower. It's a fine line and at Daytona that year, the result was good. Not everyone was happy. The recently formed Grand-Am series was created to compete with the highly successful American Le Mans Series. One of Grand-Am's first moves was to ban "factory" prototypes, initiating development of the more affordable Daytona Prototype—a spec car – like NASCAR. The DPs were allowed to use one of several approved engines, ranging from the 911 GT3 flat six to a variety of different manufactures V8s. The cars were structurally safe, but low on the appealing-to-look-at scale. And slow.

To ensure a DP would take the overall victory in the 2004 edition of the race, organizers hamstrung the GT-class 911's with intake system restrictors, reduced fuel capacity and narrower tires. That slowed them down, but the real idiocy was a ban on center-lock hubs in favor of the archaic five-lug hubs – designed solely to slow down pit stops.

Of the many drivers who drove in the 996 GT3 era, I thought a comment from Jörg Bergmeister might be interesting to quote. Jörg started out in 996 GT3 Cups on the Porsche Junior Team, became a full factory driver for over a decade, and is still racing RSRs and is now primarily a development driver for Porsche today. He remembers the evolution of the GT3R, RS, and RSR well.

"For sure over the years, definitely the car improved a lot. When we started off, it was more like a Cup car on steroids. It had wider tires, but downforce was not much different. Especially on the downforce level, the cars really improved, and obviously the biggest goal in those times was to make the rear tires wider. In combination with Michelin, a lot of work was put into getting the car better over a long run, a stint. So definitely the rear tire was the big thing, and then also the downforce." (that downforce came from an improved flat bottom, front and rear diffusers, nose or front bumper changes and rear wind efficiencies)

Bergmeister gives credit to Kussmaul as a primary driver of the 996 GT3 racing program's success: "With the way Kussmaul went over the whole development of these cars, it was all about rear tires and more downforce so you can generate more lateral grip."

Definitely, the tires were getting wider and wider. Even though I was struggling with the rear tire to keep pace over a stint, we went to the larger front tire and gained more performance overall. At first, I thought the car would be loose with wider front tires, but it was not—it was better in every way. It was always a fine line, and I think Kussmaul did a very good job there."

Driving with Patrick Long and Sascha Maassen, Bergmeister would win the GT category at Le Mans in 2004. He credits the car's total performance as well as its reliability: "We did really well because, in those times really, there was no real other manufacturer that could bring a challenger for pace or reliability."

"There was no such thing as Balance of Performance. You bring a good reliable car, the best engineering and tires along with good drivers—and whoever does the best job wins the race. It was a very enjoyable time,"

"Yeah for sure, I enjoyed it. It was simple racing in those days. The thing that is really interesting, if you look at old onboard footage, it was so much work. You had the H-pattern gearbox, and with a low grip level, you had to drive the car more or less like a Cup car—every corner. It was not like in an RSR today. You had to drive each corner and keep the car on the edge, the limit. You were always correcting with the steering and throttle, so it was pretty hard to drive. It was tiring."
The 996 GT3 is still part of my own personal life. I have a 2005 street GT3 (U.S. version), Roland too though his is an RS – not brought to the United States. I've driven his several times and also been chauffeured by him—rapidly—to and from Zuffenhausen and Weissach on several occasions. I have to admit it's a pity that the U.S. didn't get the RS, it's noticeably more powerful and has more mechanical grip.

Kussmaul loves the car. It has, as he says, "a real rear wing." A wing element that produces considerably more downforce – Abtrieb in German. While both versions offer balanced aero front to rear—the faster you drive the RS, the more stable it becomes. It's around 40+ pounds lighter, even with the safety cage that improves its torsional rigidity. It is a better car in every way, or at least a higher performance car in every way. It's a good example of how two cars with relatively simple changes and reduced weight can markedly separate the two with the same power and gear ratios.

This was made clear to me one day as we came to a lazy S-corner section between two villages near Weissach. I was driving and as I eased off the throttle in fourth gear setting up for the turn, he asked from the passenger seat, "Why you lift?" I said, that's what I would do in my GT3, just to be sure. He said, "Put the throttle down, this is an RS."
Petersen White Lightening Racing 996 GT3RSR, Jörg Bergmeister and Patrick Long were our primary Porsche competition for several years – they were a tough team to beat – reliable cars and two excellent drivers. In two years or so they would be driving for us at Flying Lizard Motorsports. Here Patrick (standing, green helmet) waits to see if Jörg needs help buckling up during a drivers change at that years race (2004).