A well Balanced team.
From competing and winning at tracks around the world, to loading up our personal track cars on the weekends our decades of combined experince make our team exceptional.
Multi-column
John Slater
Owner & Product Development
My life in motorsports started when I was old enough to swing a leg over a minibike. My father was an avid racer so our family time was spent at the motorcycle races. He taught me to fix and improve everything we owned, from that first minibike to the muscle cars and motorcycles I piloted as a young adult.
My mechanical skills, plus the desire to travel, led me to my first job in professional motorsports in 2000. I moved from my hometown in Michigan and took a job with an Indycar team in Indianapolis.
That move began a 22-year career as a traveling crew member with various race teams. From open-wheel cars in the IRL and Champ Car Series to Indy Lights and FF2000, I was fortunate enough to work for some of the top teams. After that I had the opportunity to transition to sportscars, working with Ferrari, Porsche, Audi, and BMW before a move up to prototypes.
Working within the WEC, ELMS, and ALMS, these P2 cars allowed me to experience some of the most technologically advanced race cars and travel to the most iconic racing venues in the world. After wins at Spa, Nürburgring, Daytona, and Sebring, just to name a few, I decided to switch my focus to serving the motorsports world in a different way.
Craig Watkins
Founder & Chief Engineer
As a teenager in the late '60's, I bought a 1958 VW Beetle and over time changed it into a dune buggy, then into a Baja Bug, then built a purpose-built sand rail for the dunes at Pismo. I started off-road racing in the SCORE and HDRA series in Class 10 with Greg Aronson of Fat Performance winning 12 (including the Baja 1000) out of our 42 starts and the points title in '87. In 1993 I slowly converted my daily-driver '73 911 into a club racing car and raced it through 2000 winning 18 races around the country.
In 2000 I became a full-time engineer for Johannes van Overbeek and Justin Marks with a pair of new Porsche 996 GT3 Cup Cars racing in SCCA's World Challenge GT for two years. In 2003 I became one of the founding members of Flying Lizard Motorsports as their chief engineer.
During my ten years there we raced 102 races including 7 runs of the Rolex 24 of Daytona, 8 runs of the 24 Hours of Le Mans, and all the ALMS races, winning three championships. Until I started at Flying Lizard, I did all the work on my own race cars because I enjoyed it and had a very modest racing budget.  When I retired from FLM at the end of the 2012 season, I went back to club racing my old 911 and I'm still at it today.
The tools you see here were all developed out of need, in the early days because I hardly had a dime to spare. I couldn't keep paying people to align my cars and be dissatisfied with the job they did. So with each product that came along the intent was they had to be accurate, easy to use, and affordable.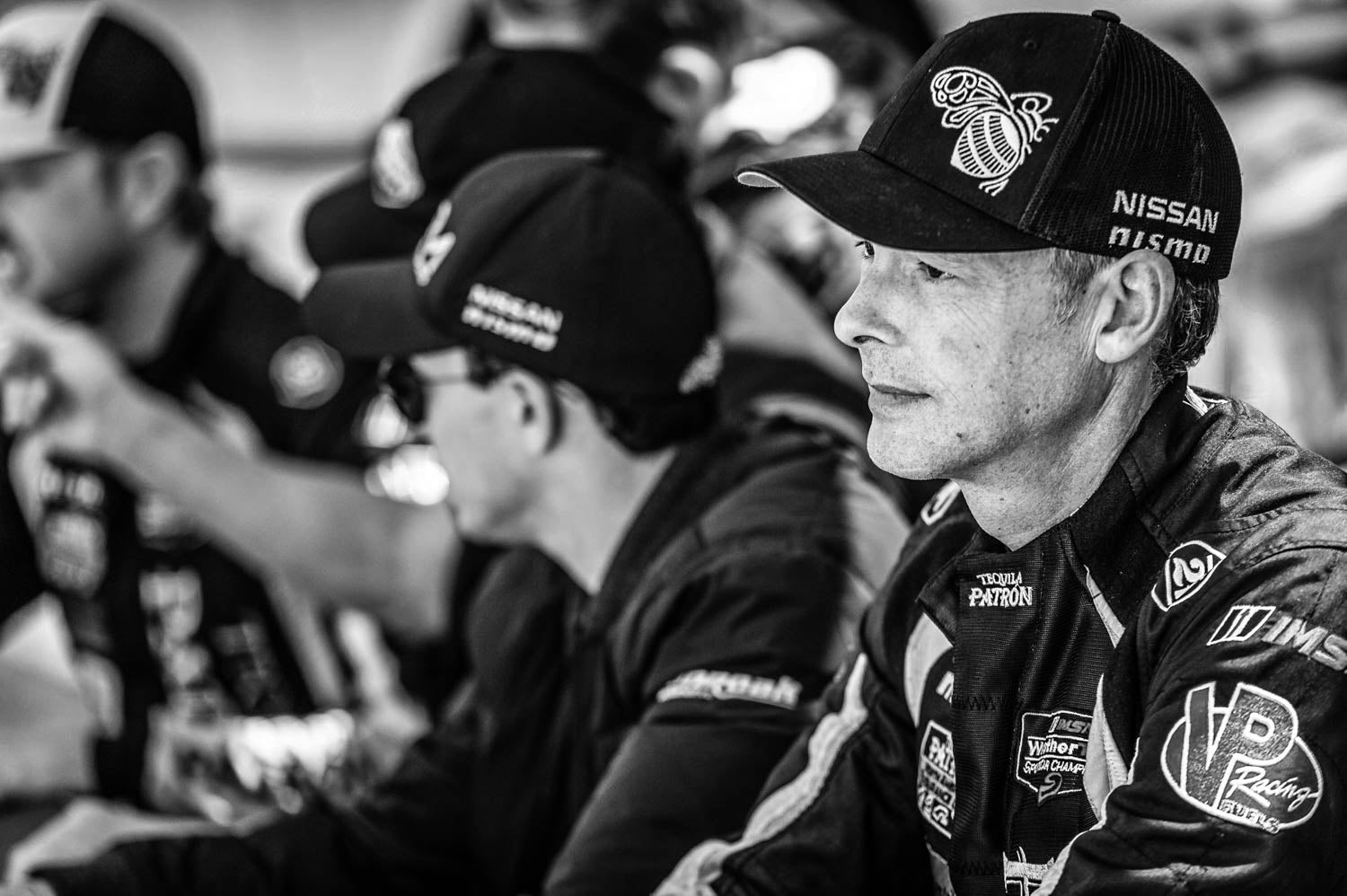 Johannes VanOverbeek
Driver & Product Development
Van Overbeek raced go-karts as a child and began racing sedans at eighteen. Since 1996, he has competed in several racing series in North America, including the Speed World Challenge, the American Le Mans Series, and Grand-Am. In 2007, Van Overbeek won the Porsche Cup and was ranked as the top non-factory Porsche driver in the world. He finished third in 2008.
As of 2013, Van Overbeek has eight wins in the ALMS. He was the only driver in ALMS to finish in the top three of the driver's championship every year from 2004 to 2008. In 2009 Van Overbeek drove for Flying Lizard Motorsports. He switched to Extreme Speed Motorsports in 2010. With co-driver Scott Sharp, van Overbeek finished 2nd in the 2012 ALMS GT championship in a Ferrari 458 GT2 with 2 wins for ESM.
A 20+ year veteran of professional motorsports having won; Sebring 2x, Rolex 24 Hours of Daytona overall, 2x Petit Le Mans wins and a podium at Le Mans.
Johannes knows the value and importance of high quality parts and service which is why he has been involved as a development consultant to SRP for 15 + years.